Even though it's been 7 years since the ineffable Jinkx Monsoon took home the Drag Race crown, long-time fans and newcomers alike can't stop talking about her underdog edit.
The Seattle queen became an "unexpected" front-runner over the infamous Rolaskatox trio of Alaska, Detox and Roxxxy Andrews. After a competition fraught with nail-biting drama and alliances that shifted more than a Kardashian relationship, the vaudevillian queen emerged triumphant, alongside an edit that has left many baffled and complexed.
In a recent interview with Digital Spy, Jinkx addressed the claims and let fans and haters alike know just what was up with that "underdog edit".
"I don't get annoyed about it," Jinkx told Digital Spy. "Because there was aspects about my journey on the show that makes it seem like I was an underdog. But people often forget that I was in the top three for eight weeks in a row. I think it's more so that my personality wasn't in your face as much as the other queens, but people saw me as a sleeper agent."
The variety queen who can do it all went on to make sure it was clear that there was nothing she would change about her experience or the time she spent on the show.
"I was in it to my best from the get go and I wouldn't change any moment of my experience," Jinkx told Digital Spy. "I am very happy with how everything turned out."
While rumors about that the Season 5 queen will return for a legendary run of All-Stars, her current calendar bares a more regular fare — including a return to Drag World UK for the third year running.
As any good Jinkx Monsoon fan will know, the ginger-capped artist has a passion for London that she's never tried to hide in the past.
"I feel like the audiences really appreciate my sense of humor and style and I think it's largely down to the fact that I really love the British television my mum showed me as a kid," she went on to say. "I've had some really good experiences in London and the fans are really loyal and always happy to have us."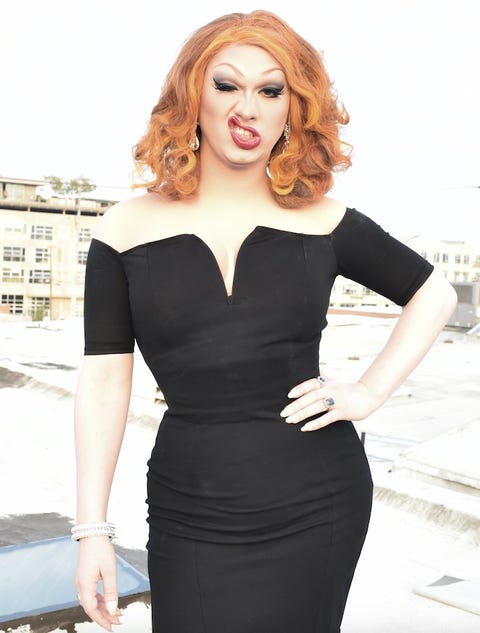 If you're a UK Monsoon fan, then rejoice. This comedy queen is being featured in an all-new Peaches Christ production of Death Becomes her, which will be making the rounds in Manchester before moving to the Soho Theatre in London.
Tickets are available now from SohoTheatre.com.
---
Ready to find more gigs from Jinkx Monsoon? Request an early invite to the world's first drag event app.
---