As a true Alaska Thunderfuck stan, let me just start by telling you how completely ecstatic I was going into the album release of Amethyst Journey…
Once or twice in your lifetime, if you're lucky, you manage to find an artist who seems to speak to your entire being. It's like they can never put out enough material to feed your desire, never drop enough bops to satiate your soul. (Sure, this line of thinking is entirely unfair to the artist, but I'm always ridiculously excited to add some new Alaska to my playlists.) Alaska Thunderfuck is that artist for me.
When I saw the announcement for Amethyst Journey, I was excited and then immediately intrigued to see how the dynamic between Alaska and long-time musical partner "Handsome" Jeremy Mikush may have changed. This album would mark a more offical duo-ship for them and dynamics can change over time and professional careers. Amethyst Journey, more than anything, though, was the promised requiem that so many of us fans had called for. It was a break from the beats and the endless charged up club anthems that seemed as common these days as a death drop.
This album was something more. Something tangible.
I couldn't wait to get my hands on it.
Fast forward to today: August 17th, 2018. (It's a Friday for those future readers.)
The first song of the album, "Aliens", is based around the idea of extraterrestrial beings coming "down to earth today." It explores how they would see us, what they might think about the state we're in now.  The song has a real relevance in today's world. It begs the listener to consider how his or her existence might affect both the planet and his or her cohabitants. The song is quite an easy listen musically, but there is a powerful meaning implied in the lyrics. We were off to a strong start.
The next song, "Truth in the Light", feels more like a return to traditional Alaska music that so many of her long-time fans will recognize. While upbeat, it does well to keep it in the realm of the powerful without getting too "extra". It creates the feeling of a trance, leaving you feeling the strong sense of peace and resolve that is so clearly resonated throughout the lyrics.
Obviously a song about a breakup, with lyrics such as, "It's time we take our separate ways," and, "We are too bright to stay in the night," it's impossible for the listener not to wonder: Is this a song about Sharon Needles? Obviously, Sharon isn't the only partner that Alaska has ever had, and it may be that the song is in reference to Jeremy's feelings. It brings to mind an interview with Michelle Visage, in which she tells Alaska that she was "her own star". Michelle when on to say she felt that they (Alaska and Sharon) would not be able to shine as brightly together as they would separately. (Something along those lines, anyway.) Could this be the truth that Alaska alludes to?
Somewhere in the midst of all my happiness over Amethyst Journey, I feel chills and a tear starting to form. The next track, "So Far Gone" starts out with a piano and some next-level feelings.
Although it's clear that this song is about how the traveling lifestyle of a celebrity can be a double-edged sword, it's also a song about the fear that, at any second, all of what someone has worked for can all be taken away. The song reveals that ambition too is a hard mistress, one that makes it hard to focus on anything other than success. This raw and relatable honestly makes this song feel like a ballad for the lonely, ambitious soul. Something too many of us can relate to.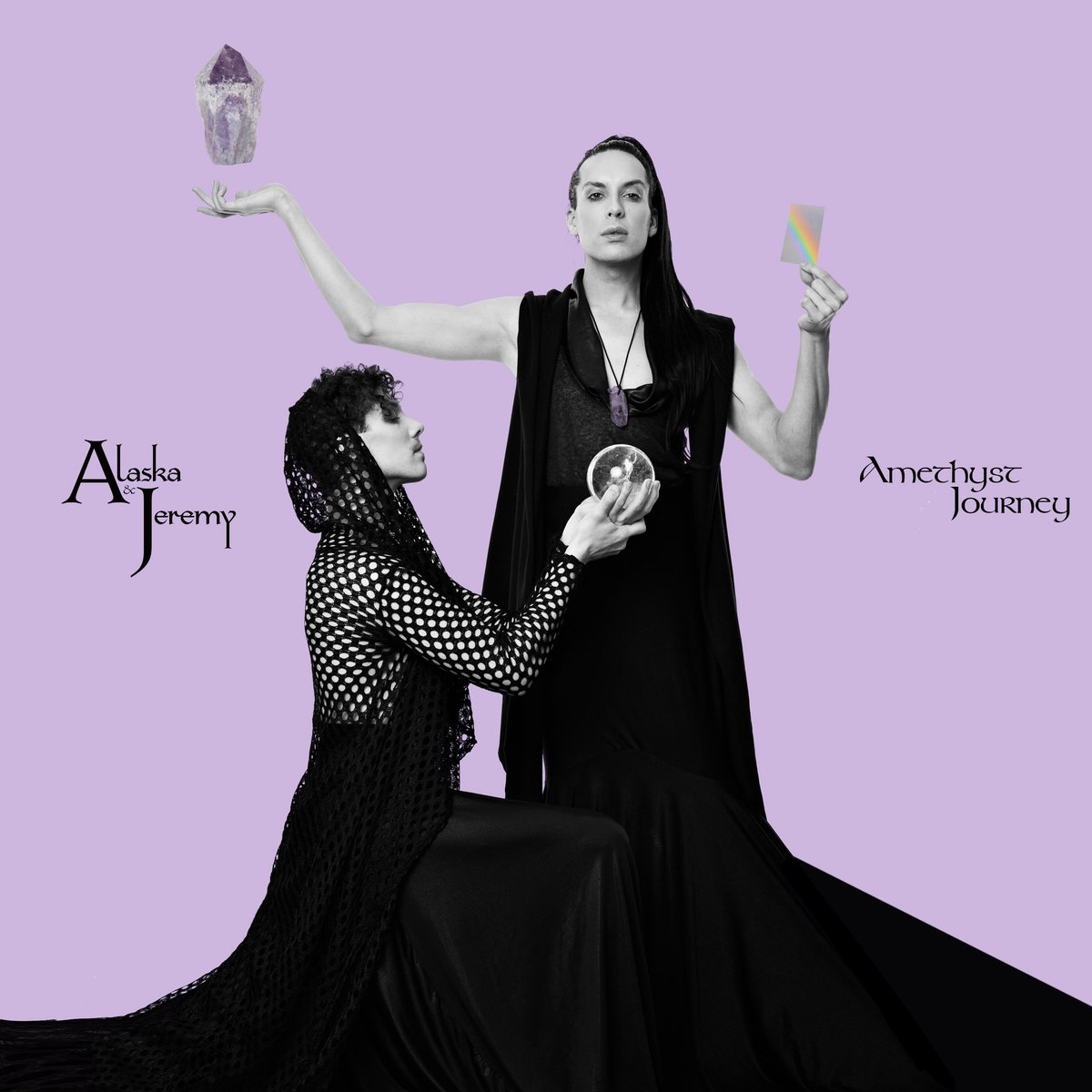 "The Wind" starts with a steady clap-and-stomp rhythm that creates a powerful feeling, almost similar to that of "We Will Rock You" by Queen. It takes only seconds to realize that this is no transition song by chance — change is coming.
This journey of amethyst then takes us to "Son of a Mother." While I can imagine this song playing during the mother-son dance at my wedding, this song is more of an environmental campaigners' anthem. With lyrics like "Mother Nature, don't you know she's your mom too" and the fact that (I believe) this album was written on a trip into the woods, it's clear that the meaning behind this song was unity. The unity of all belonging to one mother, a sacred mother than cannot be replaced — our planet. Listening to the words, it was hard not to feel a deeper respect for the planet, a certain closeness to the people, places and things around me. Considering the recent turn in environmental politics, this song was more than relevant.
Adore Delano fans come through for the next track, "The End of the World." Although not quite as heavy as Adore would normally go, it definitely teeters the line of grungy punk.
It was here that I realized that Alaska and Jeremy were telling me a story. If the last song had implored the listener to respect the planet, "The End of the World" was taking the listener on a plunge into the chaotic consequences of ignoring that warning. (But although the lyrics discuss something that would make a good many of us tremble, the song is quite the bop.) As the song clattered to a close, I realized…this was something special.
"Ascension" sounds a bit more electronic than the rest of the album, but it comes with a "Twilight Zone" feel to it. It takes us on the hopeful next step beyond an apocalypse, a spiritual moving-on, a healing of the poisonous past. Although the beats in this song may make you want to lose yourself, pay special attention to the lyrics in the last minute, because I would say that they could give me my (after) life:
"Lotus unfolding, eternal stream.
Ice, water, vapor, steam.
Carbon, crystal, chakra, fire.
Unattached to destruction desire."
The closing song is rightfully named, "At the End of the Day." It is giving me gospel vibes, very similar to what fans might recognize from "It is What It is." Although the lyrics of this song are simple, they were perfectly apt. What's better at the end of a long journey than a little peace and simplicity?
Whether you're an Alaska-stan like me, or a complete novice to the music of legendary mother of the Haus of Thunderfuck, Amethyst Journey is an album you have to check out. Even if you think the genre of drag music just isn't for you, I recommend giving this album by Alaska & Jeremy a listen. Not only does it show an incredible musical versatility, but it has lyrics that take the listener on a journey, one that explores the consequences of our own decisions and the future we might be making for ourselves.
Pretty important message for the world we live in, don't you think?
Review By: Ryan Komoromi
Edited By: Erinn Johnson
---
Listen to Amethyst Journey on Spotify:
https://open.spotify.com/embed/album/30x3UAhpd2JH65yelmqnre
---